RRAEH STUDENT TECHNICIAN
PROGRAM
BECOME A VETERINARY TECHNICIAN TODAY!
Earn your AVMA-CVTEA accredited degree with our partnership program through Penn Foster College.
WHAT IS THE PROGRAM?
Red River Animal Emergency Hospital & Referral Center has partnered with Penn Foster college to offer students a unique educational experience. Accepted students will enroll in Penn Foster's online accredited Veterinary Technician Associate Degree Program while working and completing clinical hours at our hospital.
Program Benefits
Students will have access to a classroom for studies at our state of the art veterinary hospital for a monthly fee. Anatomical models, a CPR mannikin, textbooks, and other visual aids will be available to students 24/7.
Veterinary Technician educators will check in with students weekly to maintain accountability of online progress and work one-on-one with students during hands-on skill learning. Our program educators will also help organize externship hours to fulfill program requirements that can not be completed at our hospital such as large animal and primary care medicine.
Upon program completion and licensure,  graduates who remain employed at RRAEH will be eligible for partial reimbursement of program costs.
PROGRAM ELIGIBILITY & APPLICATION PROCESS
High school diploma or GED
Must be 18 years of age or older
Employment at RRAEH for a minimum of 3 months
Complete an essay
Provide two professional references
Submit a letter of recommendation
Interview with program educators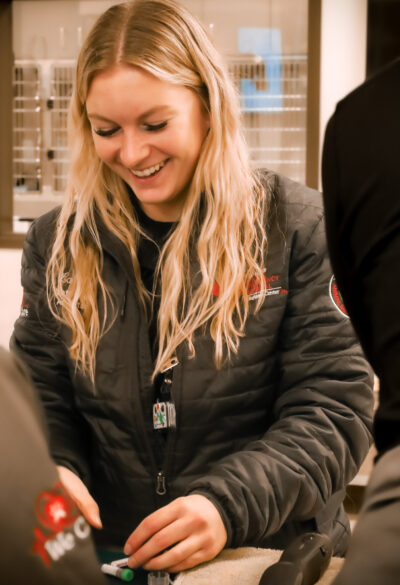 RESOURCES AVAILABLE TO STUDENTS
Anatomical Models
Canine skeleton
Feline skeleton
Equine skeleton
Ear
Canine dental
Feline dental
Lungs
Heart
Vertebral column
Kidney/nephron
Gallbladder/pancreas/liver
Textbooks
Course Textbooks Available for Check Out:
Anatomy & Physiology for Veterinary Technicians
Anatomy & Physiology Lab Manual
Anesthesia & Analgesia for Veterinary Technicians
Applied Pharmacology for Veterinary Technicians
Essentials of Biology
Clinical Textbook for Veterinary Technicians
Clinical Textbook for Veterinary Technicians – Workbook
Diagnostic Parasitology for Veterinary Technicians
Essential Calculations for Veterinary Nurses
Laboratory Animal & Exotic Pet Medicine: Principles & Procedures
Laboratory Procedures for Veterinary Technicians
Medical Dosage Calculations: A Dimensional Analysis & Approach
Radiography in Veterinary Technology
Small Animal Surgical Nursing
and more!
Other Supplies
Teaching stethoscope
Phlebotomy & IV practice model
Laptop computers
Dental scaler

Critical Care Jerry CPR Dummy
Frequently Asked Questions